EasyCount
Easy-Count is equipped with all the features required for Krushi Seva Kendra / Agri Stores, Seeds, Pesticides and Fertilizers separate billing, Panchayat Samiti Report, Stock Register, All the Stock reports, All the accounting entries like Voucher Payment, Voucher Receipt, Journal Entry, Bank Payment and bank Receipt and also final accounting like Trial Balance, Trading and PL Account and Balance Sheet.
Agriculture Billing Software (ERP) is business process management software that allows an organization to use a system of integrated applications to manage the business and automate many back office functions related to technology, services and human resources.
Accounting Software with Online Secure Google Drive Backup Option on your own Google Drive Account.
Easy Accounting software in English, Hindi and Marathi Language.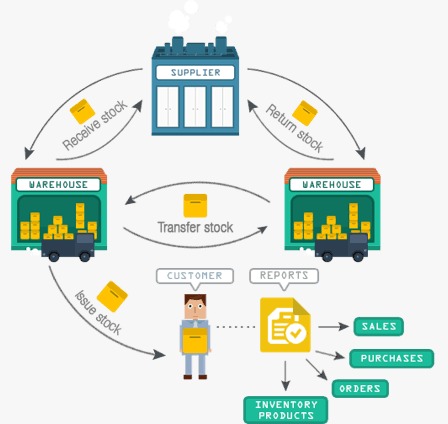 Product Details
Multi firm Facility.
Report Builder Facility.
Tally Transfer facility.
Panchayat Samiti Report.
Export all the report in (Excel, PDF, XML) Format.
Stock Conversion one to one and many to one items.
Credit Limit amount while sales.
Customers & indications while sales.
Seed-pesticides-fertilizers In sales invoice
Detail debit note and Credit Note
Interest calculation -customer form
Sales and Purchase Order
Item Ledger: Date wise Opening Sale-Purchase & Closing of every Item.
Party wise Sale Purchase: Every Item with Sales bill information (With Average Rates).
Party wise Sales Consolidated: Every Customers item wise Sale with bill wise information.
Party wise Purchase Consolidated: Every Suppliers item wise Purchase with Details.
Daily Seeds Pesticides and Fertilizers: Sales, Sales Return, Purchase & Purchase Return.
Item wise: Sale purchase and Opening and Closing Balances.
Batch wise Stock: and total receipts and total issued quantity in Item Master.
Closing Balance Reflections: Closing Balances of customers and suppliers in Master Entry.
Sales Book: In same Windows Display of Bill information Cash and Credit.
Cash Book: In same Window Display of all the Cash Sales and Purchase Bills
GST Account: Same Window Bill Details can be Visible with Direct and Indirect GST
Apply For Retail and Wholesale or For Wholesale only
Multi firm Facility.
Report Builder Facility.
Tally Transfer facility.
Panchayat Samiti Report.
Export all the report in (Excel, PDF, XML) Format.
Stock Conversion one to one and many to one items.
Credit Limit amount while sales.
Customers & indications while sales.
Seed-pesticides-fertilizers In sales invoice
Detail debit note and Credit Note
Interest calculation -customer form
Sales and Purchase Order
Item wise: Sale purchase and Opening and Closing Balances.
Batch wise Stock: and total receipts and total issued quantity in Item Master.
Closing Balance Reflections: Closing Balances of customers and suppliers in Master Entry.
Sales Book: In same Windows Display of Bill information Cash and Credit.
Cash Book: In same Window Display of all the Cash Sales and Purchase Bills
GST Account: Same Window Bill Details can be Visible with Direct and Indirect GST
Apply For Retail and Wholesale or For Wholesale only
Sundry Creditors and Sundry Debtors: 1) Area wise 2) Option for Retailer & Wholesale
Summary Ledger and Journal Entry.
Debit and Credit Note: Separate Entries with Item wise details.
Every Expense: e.g. Tea, Light Bill or records and its reflection in final reports.
Bank Accounts: All types of Bank Account are maintained for Payment and Receipt.
Profit Reports: Date wise
Final Reports: Trial Balance, Trading And Profit & Loss Account and Balance Sheet
Stock Reports: Brand wise, Item Type wise, Manufacturer wise or Item Category wise detail
Total Stock, Batch wise Stock Report Contains Purchase, and Selling Amount with Final Profit.
Total Stock in Rs, Total Stock in Rs.by Manufacturer wise.
Opening Stock Details Contains Purchasing Amount information.
Stock Register is Helpful to submit PANCHAYAT SAMITY report in Date wise.
All Reports have Opening and Closing Details.
Unique Display Panels for Debit Credit List, Reorder Expiry List, Batch, Month wise Nonmoving Items.
Automatic Back-up Facility for Every Minute. (Online back up on a Pen Drive is Optional)
Simplest Year closing method on a click of a button.
Last Selling Price for a particular Item for a Customer.
For Modification of entries Password is required.
Storage Facility for Deleted Bills.
Fastest DOS mode printing with a speed of 9.23 Sec. /Page.
Wholesale cum Retail Software (Both Entries for wholesalers and Retailers)
Internet Facility for messages to customers for their Outstanding Balances.
Customer Care Center and Online Service with Support Engineer
Automatic Offline and Online Backup
Customize SMS Service for Customer